Aleksander Vardi (until 1940 Bergman) was born on September, 4th, 1901 in Tartu and died on June, 18th, 1983.
Aleksander Vardi's creative period, longer than sixty years, happened to encompass the most tragic period of Estonian history. Vardi's masterpieces mirror the changes in art of Estonia as well as in Western Europe. This is what makes his creative journey most interesting.
As a student of Art School Pallas (1919- 1925) he followed the examples of expressionism of his teacher Konrad Mägi, futurism of Ado Vabbe. Continuing his education (1926-1929) in Paris, Vardi was mainly influenced by new realism which he studied at Vassili Suhhajev's studio.
Vardi also supplemented his studies in museums and galleries, whereas impressions of his experiences found their way on canvases later.
For example, the motifs of Sezanne came to Vardi's artworks at the beginning of 1930ies while he lived in Pärnu and worked in Endla theatre as set designer. He painted Pärnu River in Sezanne style, with wide waters acting as the main character of his artwork. He used the same style to paint bathers at the beach of Pärnu.
As time passed, Vardi understood that his sensitive nature is best characterised by impressionism which had become more and more popular in Paris as well as Estonia. The most beautiful examples of Vardi's impressionistic artworks are created in the second half of the thirties, including Paris. The free sky and air full of creativity above the city was a true companion for Vardi during the hard times in occupied Tartu. That time pressed the harsh seal of sadness and socialist realism on Vardi's bright impressionism. During the years 1950-1956, expelled from the Artists'Association, he found work as set designer at Vanemuine theatre in Tartu.
In 1958 Vardi started to try abstractionism together with young forward-looking artists. But his art could be shown only after the year 1965. The best for him in this style was a brush throwing spontaneous bursts of paint. The last abstract artwork dates back to 1972. After that Vardi concentrated on flower-rich still-life.
Next to productive creative work at high level Aleksander Vardi was an esteemed lecturer at the Art School Pallas in Tartu (1934-1944) and in Art Academy in Tallinn (1944-1950), where he acquired the title professor.
Vardi is resting at Raadi Cemetery in Tartu, the free sky of Paris guarding his peace.
Krista Piirimäe,
curator of the exhibition
Artworks from Art Museum of Tartu, collection of Enn Kunila and other private collections.Supporters: Town Government of Pärnu and Estonian Cultural Endowment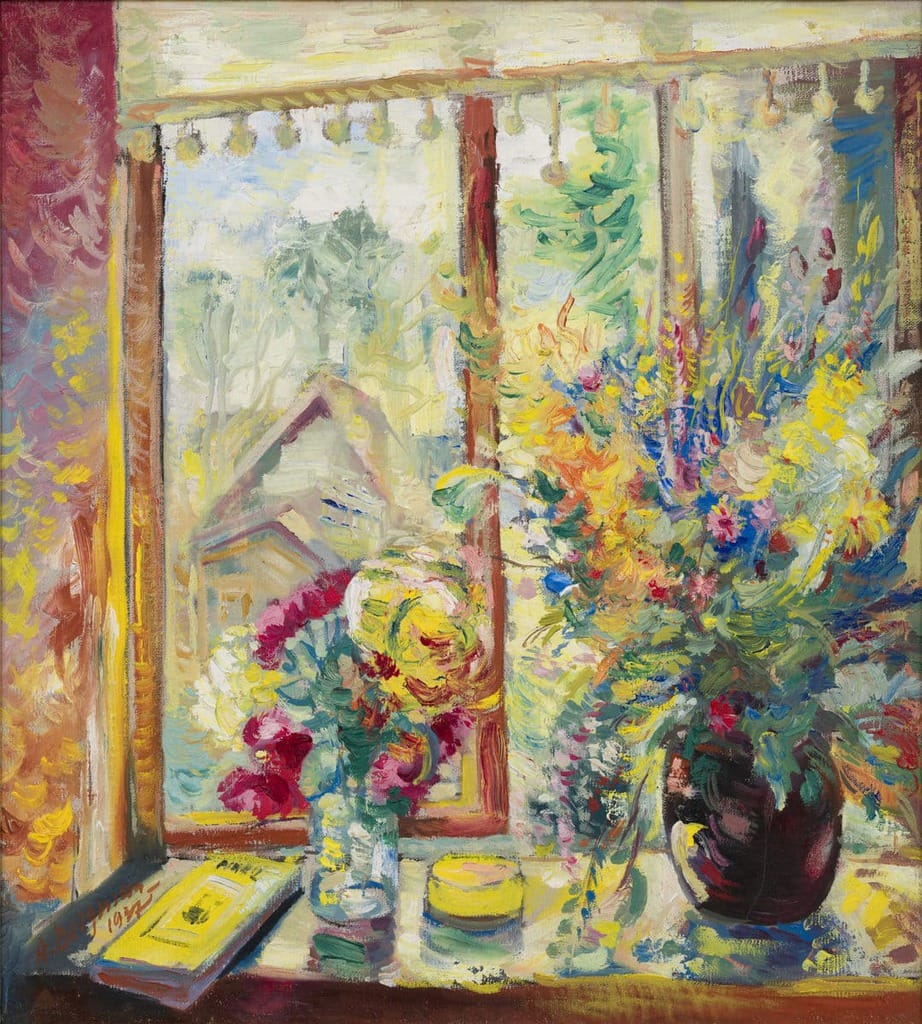 Pärnu Postimees, 22.09.2021
https://parnu.postimees.ee/7343402/pallaslase-ulevaatenaitus-parnus-aleksander-vardi-hobehallidest-varjunditest-pariisi-taeva-all
The Baltic Guide, 15.09.2021
https://balticguide.ee/parnun-uuden-taiteen-museossa-avattiin-aleksander-vardin-toiden-nayttely-pariisin-taivaan-alla/?fbclid=IwAR1fewsqOgwFjdSkffXpheLSwDpDvZ0OrEfY6hJIih-pIPmARx0wZFzxLEM
ERR, Kultuuriportaal, 12.09.2021
https://kultuur.err.ee/1608336335/galerii-parnu-uue-kunsti-muuseumi-avati-aleksander-vardi-naitus
SIRP, 11.09.2021